Our products are widely accepted and acclaimed in both domestic and International markets. Still, keeping client satisfaction at priority all our products are guaranteed for a period of 180 days from the date of purchase. This does not apply to the emerystones. In case of Specialised machinery the guarantee is also extended upto a period of 12 months.

Why Gamble with the Quality of your Products
Let's face it. You need to keep up with rapidly changing technologies. And, if any Indian manufacturers are doing so, Sabko is definitely one of them. Our dedication to R&D, filling technological gaps, applying innovative methods of manufacturing and a tradition values has made Sabko Industries the ideal choice of innumerable customers across the country.

Because, with Sabko you are assured.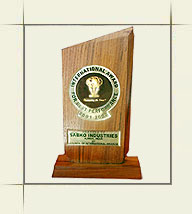 Our stands product guarantee sustained by such awards



---