GRANITE DRESSING MACHINE
Technical Specifications of Machine
Specification
HP / KW
Main Motor Power
20/15 AC
Bridge up DN Power
3/2.2 AC
Cutting Feed Power
2/1.5 AC
Trolley
3/2.2 AC
Spindle RPM
375
Cutting Dimension
Height 6'-6", Width 6'-0", Length 12'-0"
Special Features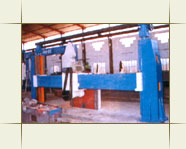 Full top to Bottom Cutting by a Dia. 1.3 Mtr. Circular Cutter.
HORIZONTAL (small Side) cutter available.
Revolving Trolley available for surrounding dressing of Blocks.
Process step cutting by Automatic Panel.
Portray water couplings in tails of Main Spindle for delivery of water in center of cutter.
---